How To Spend 48 Hours in Roma Queensland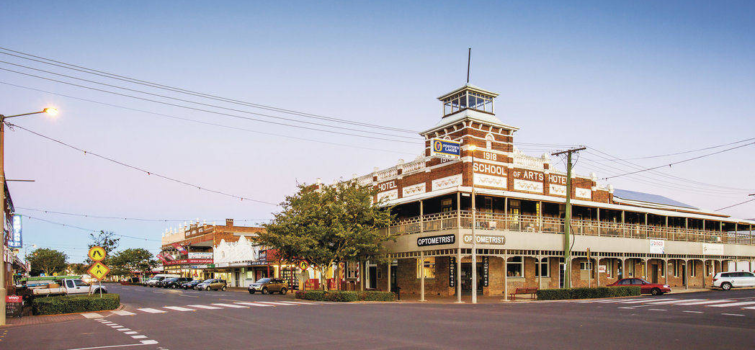 There is something about the fabulous outback life in Roma Queensland. It is located 476 km away and about one hour flight from west of Brisbane. From rigs and races to cattle and Carnarvon Gorge National Park, Roma offers the best outback adventures for you to experience. This area has lots of magnificent ancient sceneries as well as unique flora and fauna for you to explore. Roma is also known as the birthplace of Australia's Oil and Gas industry, and it is home to the country's largest cattle sale yards. Whether you are looking for a weekend's worth of activities, or just have a few hours to spare, here's how to spend 48 hours in Roma.
Day One
Morning
We will be starting our morning at a popular bakery shop. One of our favorites is Bakearoma in McDowall Street which offers a huge range of bakery choices, tasty coffees, and lovely services to welcome you to Roma. If you would like an Acai bowl, delicious burgers, coffee, and tea, then make sure to check out The Tasting Co located on Hawthorne Street. And if you are into steak sandwiches, toast, and salads, you can consider going to Cafe 54 on Raglan Street. 
Afternoon
Roma Saleyards
One of the must-do activities in Roma is visiting the Roma Saleyards. It is the biggest cattle selling facility in the southern hemisphere with over 400,000 cattle sold here each year. If you are visiting on Tuesdays, you will be able to join their visitor tours from 8:30 am. No bookings are required, just meet in the Bull Ring area! They also hold sales such as Bull Sales, Herd Dispersal Sales, and Special Breed Sales every Tuesday according to demand. If you are not visiting on a Tuesday, don't worry, there is the Roma Saleyards Interpretive Centre that is open every day from 8 am to 5 pm. The centre provides interactive multimedia that is great for visitors who want to learn more about it. Give yourself around an hour or so to see all the exhibitions and be sure to check out their sales yard.
Location: 44589 Warrego Highway
Cost: Free
Opening Hours: The interpretive centre is open daily from 8 am to 5 pm and tours are on Tuesdays from 8.30 am.
Roma's Largest Bottle Tree
After visiting Roma Saleyards, you might still have some time to explore more. In Roma, you will notice that there are lots of bottle trees everywhere. The largest bottle tree has a massive girth of 9.51 metres, a height of 6 metres, and a crown of 23 metres. The tree was transplanted from a local property in 1927 and it is said to be originated back in the 19th century. Although the bottle tree has fully matured, the trunk still grows around 1 cm each year. There are several locations where you can find these bottle trees. The first one is at the end of Edwardes Street and the second one is the Hero's Avenue. There are about 140 bottle trees lined up on Hero's Avenue. It was planted in 1918 as a tribute to the soldiers who lost their lives in World War 1. There are plaques that are placed in front of each tree and further information about the soldier the tree is in honour of. 
Night
Watch a Big Rig Night Show
The Big Rig Show will take you on a journey through all the history and dramas when oil and gas were discovered in Australia. The tour lasts for an hour and it will take you on a sound and light journey to learn more about the problems and success of the industry men and women in Roma. The tour starts from 5 pm from April to October and 5:30 pm from November to March. The tour is only held on Mondays, Wednesdays, and Fridays. 
If you are in for a classic outback feast, make sure to check out Explorers Restaurant located in Roma Explorers Inn. This restaurant offers typical and most delicious country meals such as pie, beef rissoles, lamb shoulder, steak, and salmon.
Day Two
Morning
Kick-off your day with waffles, pancakes, or quesadilla in Royal on Ninety-Nine on McDowall! They have a wide range of breakfasts you can choose from to fuel you up for sightseeing. Blue Shed Fish & Chips Cafe is also another great option if you are feeling like eating fried fish that is so golden and crispy, then make sure to check this one out. This restaurant is located on Bowen Street.
Afternoon
Big Rig Oil Patch Museum 
If you became interested in learning about the oil, gas, and energy industry, you can also check out the Big Rig Oil Patch Museum. This museum offers a guided tour where a Roma Rigger will take you on the historic rigs, mining machinery, and equipment, and learn more about the industry's pioneers. Teenagers can also enjoy an Oil Patch challenge where they will have to go around the museum and answer questions in order to have fun and learn more about oil and gas. 
Location: 2 Riggers Road, Roma, QLD
Cost: $20
Opening Hours: 8:30am-5:00pm
Roma Bush Gardens 
A great way to spend an afternoon is to stroll through the Roma Bush Gardens. The 14-hectare gardens have 11 different vegetation communities that are local to the Roma region. To indulge in the beautiful natural scenery, take around a 1.5 km trail through the gardens and watch out for the native birds. 
Location: Walk starts from the corner of Duke and Mayne Streets
Cost: Free
Night
End your day at Roma with Asian food as your dinner. We recommend you to stop by BC's Restaurant on Bowen Street if you are interested in Thai cuisine or Golden Dragon Palace on McDowell Street for Chinese food. 
Be sure to explore these beautiful attractions next time when you visit Roma. For more information about things to check out during your time in Outback Queensland as well as accommodation, visit our blog and our website!