Popular Annual Events in Roma Queensland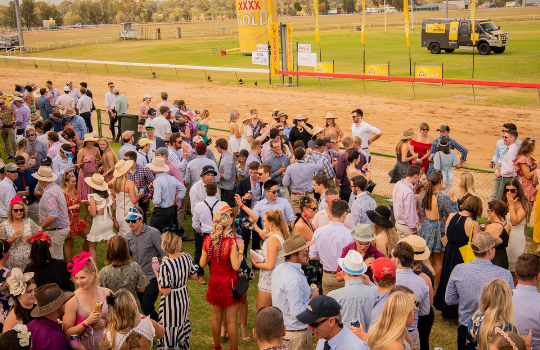 Roma may not be the first place in mind when you are considering a Queensland vacation, but it has many popular events happening all year round. After all, Roma is considered the largest town in the Maranoa Region of Outback Queensland. It offers an array of fun activities and events with the most friendly country hospitality. Whether you are traveling with a group of friends or you are on a romantic getaway, Roma Queensland is the perfect destination for you! At Roma Explorers, we know our special town inside and out. Here is our selection of Roma Queensland's popular annual events:
1. Bendemere Cup Roma – February
If you want to experience the most authentic country race, it is recommended to go see the Bendemere Cup held in The Roma Turf Club. This event is in celebration of the original Bendemere community of Wallumbilla and Yuleba. Every year it attracts hundreds of visitors from across the region to celebrate and watch the race. Join the locals and see all the western horses be back on the trackside!
Venue: Roma Turf Club Bassett Park, Northern Road, Roma, Queensland
Organiser: Roma Turf Club
2. Roma Picnic Races And Black Tie Ball – March
A wholesome weekend looking at races, dining at Bassett Park, and dancing the night away. Roma picnic races and black tie ball event was first launched in 1901 with many locals considering this their favourite Roma race event. The event starts on a Friday night with participants all dressed up in black ties and formal wear. You will first enter from the lawn at Bassett Park and there are all the pre-dinner drinks and appetizers. The event offers full table service with a three-course dinner and live music for all guests until midnight. There will be a five-race program, art and tea in the wool court, and live entertainment in Bassett Park.
Venue: Roma Turf Club Bassett Park, Northern Road, Roma, Queensland
Organiser:Roma Picnic Race Club
3. Roma Rugby Race Day – June
This event is in a combination of the two most-loved sports by the Australians – rugby and horse races. Roma Rugby Race day begins at 11:00AM and ends at 6:00PM – we recommend early arrival times to comfortably find a spot in the crowd! Run by Roma Turf Club and Roma Rugby Club, the event is held in the beloved Bassett Park. Whether you are a rugby lover or interested in horse racing, visitors with all kinds of interests are welcomed to enjoy the day filled with live sport, music, and other fun activities.
Venue: Roma Turf Club Bassett Park, Northern Road, Roma, Queensland
Organisers: Roma Rugby Club and Roma Turf Club
4. Maranoa Food and Fire Festival – August
The Food and Fire Festival is an event that celebrates the multicultural and diverse groups of people in the Maranoa region. This festival was first celebrated in 2008 to commemorate the 100-year anniversary of the Great Fire of 1908 on Hospital Hill, Roma. The festival is also in celebration of the thriving oil and gas industry in the region today. With a variety of international food stalls, on-stage entertainments, fireworks, animal rides, and more, people of all ages are welcome to discover and have fun together!
Venue: Big Rig, 2 Riggers Road, Roma, Queensland
5. Roma Cup – November
Every year in November, the Roma Cup is an exciting race event that you won't want to miss. This event has attracted thousands of gamblers across the state, making it one of the most popular horse race events in Queensland. The action-packed day of horse race begins on Saturdays at 11 A.M. Enjoy the afterparty following the races, jam packed with live performances and other activities. The trackside at Roma Cup is the place to be even if the weather will be scorching hot, nothing will stop the fun annual race day from happening!
Venue: Roma Turf Club Bassett Park, Northern Road, Roma, Queensland
Organisers: Roma Turf Club
To conclude, all these are must-attend events that kick off a wonderful weekend in style. If you have any further queries about activities in Roma or want to book a stay at one of the best hotels in Roma Queensland contact us now or visit our website!